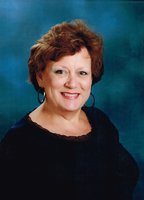 Sylvia Hurley Bowman
Sylvia Hurley Bowman, 57, of Ozark, Alabama, passed away on Monday, June 24, 2019 in Dothan, Alabama, with her family at her side.
Funeral services will be 2:00 P. M. Thursday, June 27, 2019, from the First United Methodist Church in Ozark with Reverend Michael Sigler, Reverend Dr. Jason Thrower, and Reverend Dr. Billy D. Gaither officiating. Interment will follow in Woodlawn Memory Gardens, Holman Funeral Home and Cremations of Ozark directing. The family will receive friends at the funeral home in Ozark Wednesday from 5:00 P.M. until 7:00 P.M.
Sylvia was born on December 6, 1961, in Douglas, Georgia, to Jerry and Betty Hurley of Enterprise, Alabama. She graduated from Enterprise High School in 1980. Following a career as a teller and secretary at Fort Rucker National Bank (now known as Commercial Bank and Trust), Sylvia began work for Ozark City Schools at Carroll High School in the Student Office in 1997. Looking to build upon on her passion for teaching and helping others, she went back to school at Troy University, ultimately receiving a Bachelor's of Science in Secondary Education.
For the next 22 years, "Mrs. Bowman" was a beloved educator to many students at Carroll, teaching in the Social Sciences department. She had a passion for all things related to America and its rich history; she truly enjoyed teaching her students the story of this great nation. Her devotion to her students often extended outside the classroom and beyond the textbook. She volunteered her time in many organized activities including the Government Club. As an active member of First United Methodist Church of Ozark, she also assisted with the Billy Gaither Sunday School Class.
Sylvia was known for her bright personality, sharp wit and unending devotion to her family and friends. She loved to travel and especially enjoyed visiting the beach. She will be deeply missed.
She is survived by her loving husband of 37 years, Keith Bowman; son, Jerrod (Maureen) Bowman; daughter, Rachel Bowman; her caring parents, Jerry and Betty Hurley; her father-in-law, Jesse Bowman; sister, Lisa (Ray) Spann; brother-in-law, Britt (Cleo) Bowman; sister-in-law, Lynda (Gary) Walker; nieces, Lisa Bowman and Claudia Walker; nephews, Brian and Justin Bowman; grandchildren, Jack and Walter Bowman.
Flowers will be accepted and memorials may be made to the Organ Fund at the First United Methodist Church of Ozark, 167 East Broad Street, Ozark, Alabama 36360.