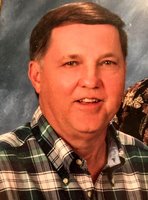 Doug "Doug" Marshall, III
Otis Douglas Marshall, III, Doug or "Buddy", a resident of Ozark, Alabama, died Thursday morning, June 27, 2019 in a Dothan hospital surrounded by his loving family. He was 74 years old.
A memorial mass for Mr. Marshall will be held 3:00 P.M. Monday, July 1, 2019, from St. John The Evangelist Catholic Church in Ozark with Reverend Frederick G. Boni officiating, Holman Funeral Home and Cremations of Ozark directing. The family will receive friends in the church Monday one hour prior to the service.
Mr. Doug Marshall, son of Otis Douglas Marshall, Jr. and Katherine "Kitty" Murphree Marshall was born on August 8, 1944 in Montgomery, Alabama. While attending Auburn University, where he was a member of the Pi Kappa Phi Fraternity, he received his commission as a 2nd Lieutenant in the Army. After serving his country for two years on active duty, he transitioned to the Army Reserves where he retired as a Major. During that time, he joined his father in the family business, Marshall Printing Company. Later, Mr. Marshall opened his own insurance company, Government Service Agency, where he relocated to Ozark, Alabama. Doug later received his Master's Degree in Psychology from the University of West Georgia in Carrolton, Georgia. He was a member of Saint John's Catholic Church where he taught Sunday School to Junior and Senior High School Students and he was a member of the Jaycees, Toastmasters and an annual volunteer bell ringer for the Salvation Army. He was an avid bridge player, tennis player and dancer. Mr. Marshall was a tremendous supporter of public education and enjoyed leading the Ozark Partners in Education Board.
Mr. Marshall is survived by his loving and devoted wife of 51 years, Earlena Peterson Marshall of Ozark, Alabama; his three children, Natalie Marshall Dean (Frank) of Birmingham, Alabama, Amy Marshall Giles (John) of Santa Rosa Beach, Florida and Douglas Scott Marshall (Taylor) of Springdale, Arkansas; his siblings, Dr. Donald Marshall (Peggy) of Montgomery, Alabama, Katherine Marshall of Panama City Beach, Florida; sister in law, Rebecca Peterson Montgomery (Jim) of Chandler, Arizona, their families and his aunt, Gloria Murphree of Newnan, Georgia and her family. He was the proud grandfather, "Buddy", of seven grandchildren, Katherine and Caroline Dean, Cooper and Riley Giles, Avery, Porter and Milo Marshall. Numerous nieces, nephews, great nieces, great nephews and cousins also survive. In lieu of flowers, please make donations in honor of Doug Marshall to the American Cancer Society, 3054 McGhee Road, Montgomery, Alabama 36111.