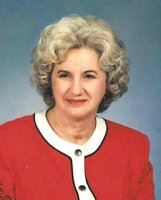 Betty Lou Marcum
Mrs. Betty Lou Campbell Marcum, 86, of Ozark, died Thursday, July 4, 2019, following an extended illness.
A memorial service for Mrs. Marcum will be held 2:00 P.M. Sunday, July 7, 2019, in the Chapel of Holman Funeral Home and Cremations in Ozark with Mr. Leon Estep officiating. Interment will be later in Woodlawn Memory Gardens, Holman Funeral Home and Cremations of Ozark directing.
Betty was born December 6, 1932 in Warrior, Alabama to the late Dennis Holmes Campbell and Birtie McDuffie Campbell. Betty graduated from Warrior High School where she was salutatorian of her class and a cheerleader. After working in Birmingham for the Jack Cole Trucking Company for a year, Betty married Sergeant Ernest Aldridge Marcum on March 12, 1953.
Betty worked at Maxwell Air Force Base in the Command and Staff College while her husband served in Korea. She moved with her husband to several military installations including For Benning, Fort Bragg, Fort Carson, Fort Chaffee, Keesler Air Force Base and then to Fort Rucker in 1958. Mrs. Marcum returned to work in 1961 at the 1st Aviation Brigade where she served the Army for 21 years while working on her college degree from Troy State University. She accepted a position as a writer/editor at the Army Safety Center in 1982 and retired from civilian service in 1997. Her favorite community activity was being a member of the Master Gardeners and working with all her fellow members. She loved participating in the community projects and wrote the weekly gardening articles for the Southern Star for several years. Mrs. Marcum was a faithful member of the Ozark Church of Christ since 1964. She served as a bible class teacher for many years. She cooked many meals and took them to the Church shut-ins over the years. She loved working on the Church grounds planting flowers and weeding which resulted in the Church of Christ receiving the Ozark's beautification award. Mrs. Marcum was a loving wife, mother, grandmother, great-grandmother, daughter and sister. In addition to her parents, she is preceded in death by her husband, Ernest Aldridge Marcum.
She is survived by one daughter and her husband: Deborah and James Blanchard of Ozark; two sons and a daughter-in-law: David and Debbie Marcum of Andalusia, Perry Marcum of Ozark; four grandchildren: Jamie Caroline Ahlzadeh, Abby Denise Fetsko, Grant Adrian Marcum, Colin Grayson Marcum; and six great-grandchildren.
The family would like to thank the Ozark Church of Christ for their continued devotion through her illness. The family would also like to express their deep gratitude to Dr. Taylor Caffey and his staff for always being there when they needed them. A special thanks also to the staff of Kindred Hospice and Ozark Health and Rehabilitation. Thank you for your support, caring and understanding.
In lieu of flowers, memorials may be made to the Ozark Church of Christ, 863 East Roy Parker Road, Ozark, Alabama 36360.