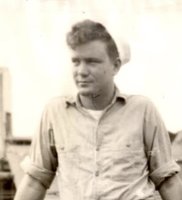 Oscar "O.W." Wynn
Mr. Oscar W. "O.W." Wynn, 94, of Ozark, died Wednesday, July 10, 2019.
Funeral services will be 10:30 A.M. Tuesday, July 16, 2019, in the Chapel of Holman Funeral Home and Cremations in Ozark with Pastor Nannette Brooks officiating. Interment will follow in Woodlawn Memory Gardens with Full Military Honors, Holman Funeral Home of Ozark directing. The family will receive friends at the funeral home in Ozark Monday from 5:00 P.M. until 7:00 P.M.
Mr. Wynn was born March 27, 1925 in Ariton, Alabama to the late Thomas Edward Wynn and Adeline Laney Wynn. He lived in Eutaw, Alabama during his early years. Mr. Wynn enlisted in the United States Navy where he served for twenty years, retiring in 1962. Following his military service, he worked with the Alabama Aviation College in Ozark until opening Camera Service Center in 1968. He and his wife operated this business for forty years until retirement in 2008. He loved photography and traveling. In addition to his parents, he was preceded in death by his son, David Allen Wynn; four sisters, Bonnie Estell Wynn Casey, Emma Wynn Bruce, Edna Wynn Free, and Willie Frances Wynn Davis; two brothers, Thomas Frank Wynn and Robert Cary Wynn.
Survivors include his wife of 56 years, Maxine Faulk Wynn of Ozark; one daughter and son-in-law, Linda and Carl Post of Owasso, Oklahoma; four sons and two daughters-in-law, Joe Galloway of Ozark, Robert Cary Wynn of Ozark, Edward Thomas and Kitty Wynn of Keysville, Virginia, and Jonathan Dale Wynn Sr. and Jeanne Sims, of Valley, Alabama. Twelve grandchildren, sixteen great grandchildren, two great-great grandchildren, numerous nieces and nephews also survive. Flowers will be accepted, or memorials may be made to AmVets National Service Foundation, P. O. Box 96175, Washington, DC 20090-6175