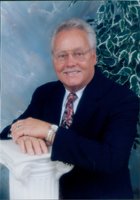 Joe Phelps
In the early hours of August 11, 2019 Joel "Joe" Junior Phelps went home to be with his Lord and Savior. He was at home surrounded by his wife and children.
A memorial service for Mr. Phelps will be held 10:00 A.M. Saturday, August 17, 2019, from Ozark First Assembly of God Church with Pastor Greg Doss officiating, Holman Funeral Home and Cremations of Ozark directing. The family will receive friends at the church Saturday from 9:00 A.M. until service time.
Mr. Phelps was born January 16, 1938 in Cardwell, Missouri to the late Joel Ebb Phelps and Dovie Chloe Bishop Phelps. Joe served in the United States Air Force for eight years. He was a welder by trade and owned Joe's Welding Shop in Ozark for several years. He also worked with the Dale County Sheriff's Department for seventeen years. Joe enjoyed music and at one time sang with a gospel group, Cedar Creek. He also enjoyed spending time with his family and friends, going to the lake, "tinkering in his shop", and telling jokes. He was a member of Ozark First Assembly of God Church and loved his church family. He was preceded in death by his parents, Joel Ebb Phelps and Dovie Bishop Phelps; one brother, Dennis Phelps; and three sisters, Dorothy Jarrett, Barbara Cruit, and Rachel Keasler. He is survived by his loving wife of 62 years, Joan Ventling Phelps of Ozark, Alabama; his children, Pam (Mark) German of Ozark, Alabama, Bobby Phelps of Clopton, Alabama; his sisters, Aileen Fletcher of Cardwell, Missouri, and Norma (Virgil) Bartle of Rolla, Missouri; his brother, Glen Phelps of California; his grandchildren, Ashely (Katlyn) Jackson of Wicksburg, Alabama, Colby Phelps of Carrollton, Georgia, Matthew (Emily) German of Tuscaloosa, Alabama, and Dilan (Megan) Phelps of Whitesburg, Georgia; great grandchildren, Wesleigh Jackson, Millie Kate Jackson and Grainger Phelps; very special neighbors, David and Renee Faulkner; his beloved pet, Scooter. Several nieces and nephews also survive.
The family would like to thank Community Hospice for their excellent care.
In lieu of flowers, donations may be made to Community Hospice of Dale Medical Center, 126 Hospital Avenue, Ozark, Alabama 36360.