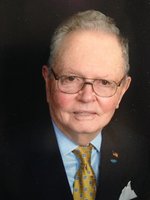 Albert James Chambers, Jr.
Mr. Albert James "Jim" Chambers, Jr., 90, of Union, Missouri, died Saturday, September 14, 2019.
Funeral services will be graveside 1:00 P. M. Saturday, September 28, 2019 from Pinckard Memorial Cemetery with Reverend Chris Woodall officiating, Holman Funeral Home of Ozark in charge of arrangements.
Mr. Chambers was born in Birmingham, Alabama and was a graduate of Phillips High School 1947. He married Barbara Snell Chambers and resided in Melbourne, Florida most of his adult life, returning to Birmingham on marrying Virginia Strong with whom he had graduated from Phillips. He joined Virginia's Methodist church, Mountain Chapel United Methodist, and remained a member there.
Mr. Chambers was a family loving patriot of the United States who defended and honored his country throughout his life. He was a combat veteran of both Infantry and Aerial combat in Korea in 1951-1952. As a Master Sergeant of Combat Infantry, he conducted intelligence and reconnaissance patrols with the United States Army's Second Infantry Division and as a volunteer Army Observer flying with the USAF Mosquito Squadron. He proudly wore the United States Army Combat Infantrymen's Badge and the United States Air Force Combat Air Crew Wings. On his return from Korea, he began his career in support of NASA space programs working on the Titan III with Martin Marietta, Saturn V Moon Landing with Dow Chemical and various projects for the Aerospace Division of Harris Corporation. He enjoyed motivating and tutoring young people in aeronautics and science and conducted demonstrations for them in the school systems of Alabama and Tennessee.
His other civic activities included Junior Achievement Counselor and Vice President of The American Air Combat Museum in Mountain City, Tennessee. He was the first President of the Blue Star Foundation, affiliated with the American Village, Montevallo, Alabama where he also organized and conducted antique military aircraft flyovers. He and his Veteran companions entered his antique 1952 Jeep in the National Veterans Day Parades in Birmingham for nine years. In addition to his engineering career, Mr. Chambers was a businessman in Melbourne, Florida. His interests were any and all things family, including a variety of outdoor activities. He was preceded in death by his parents, Albert James Chambers, Sr. and Jewell Borland Chambers; and his wife, Barbara Snell Chambers.
Survivors include his wife Virginia Strong Chambers; his daughters, Kathy S. Chambers and Eugenia Chambers Yaros; his grandchildren, Kris Dysert, KathrynYaros, Nicolas Yaros; his step-children, Martha Ann Strong and George D. Strong (Lisa); step-grandchildren, Benjamin Strong and Jon Strong.