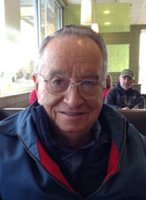 Joseph Donald "Don" Parmer
Mr. Joseph Donald "Don" Parmer, 84, a resident of Ozark, died Sunday evening, October 27, 2019, in Southeast Health Medical Center.
Funeral services will be held 10:30 A.M. Wednesday, October 30, 2019, from Spring Hill Baptist Church in Blue Springs with Reverend Bob Cox officiating. Interment will follow in the church cemetery, Holman Funeral Home and Cremations of Ozark directing. The family will receive friends Wednesday in the church from 9:30 A.M. until service time.
Mr. Parmer was born on April 30, 1935 in Barbour County, Alabama. Don graduated from Blue Springs High School where he loved playing basketball. After high school he attended Wallace Community College to study auto mechanics. He worked in the service departments of several area Ford dealerships, with his longest service at Walter Hand in Ozark. After working for others, he became co-owner of a service station in Ozark and ultimately, sole owner of Parmer Auto Services, where he was a highly respected mechanic.
As Don worked throughout his life, he also continued his family's legacy of farming. He was particularly fond of his cows and enjoyed keeping a herd to look after. Once he retired as a mechanic, he farmed full-time. In addition to cows, he grew everything from peanuts to cotton to peas to sweet potatoes. As much as he enjoyed growing things, he enjoyed sharing these things even more. Family and friends were always given as much as they could ever carry home. The selflessly sharing and giving of himself were the true gifts of Don Parmer. He was a quiet and humble man with a powerful work ethic who shared his talents and his time with those he loved and those in need. Don was as smart as he was kind. He could fix anything and solve any problem. He enjoyed fishing, working with the land, whether planting and growing, or moving dirt with his bulldozer. Most of all, he cherished being surrounded by his family.
Don is survived by his wife, Mary, whom he dearly loved, and who dearly loved him. Other survivors include: daughter, Pam (Tony) Johnson of Lawrenceville, Georgia; son, Greg (Sondra) Parmer of Auburn, Alabama; five grandchildren, Alecia (Weyman) Casper of Watkinsville, Georgia, Lindsay (PJ) Katz of Atlanta, Georgia, Bethany (Chris) Herold of Watkinsville, Georgia, Erin (Luke) Bartlett of Dublin, Ireland, and Jacob Parmer of Auburn, Alabama; five great-grandchildren; Lyla, Josie, Ellie, Riley and Zoe; one sister, Marjorie Hunt of Webb, Alabama; one sister-in-law, Bobby Parmer of Enterprise, Alabama; one brother-in-law, Boyd Tew, and many other special nieces and nephews, relatives and friends. Mr. Parmer was preceded in death by his brother, Maxwell Parmer and brother-in-law, Leon Hunt.
Flowers will be accepted or memorial contributions can be made in Don's name to the American Kidney Fund, 11921 Rockville Pike, Suite 300, Rockville, Maryland 20852.