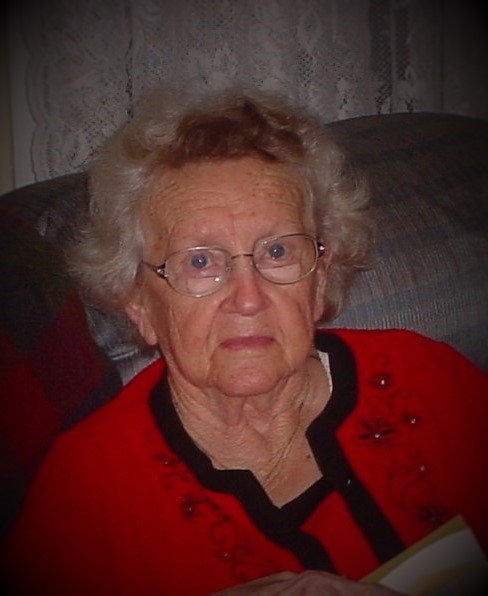 Obituary of Nell Garner Ivey
A treasured lady, Mrs. Nell G. Ivey, left her earthly house for her eternal home minutes before nine o'clock Saturday morning, October 26, 2019, at the age of 93. A massive brain bleed at her daughter's home in Clio early Wednesday night resulted in her death at Dale Medical Center.
Born October 3, 1926, the younger daughter of John Abe Garner, Sr. and Bertha Trawick Garner, she lived her early life near River Road north of Ariton with her three brothers and one sister. Following her marriage to Ralphael Ivey, they resided in a rural home in lower Barbour County. Being a true helpmate to her husband, in addition to the tasks of a farmer's wife and helping raise their four children, she assisted him in the planting, cultivating, and harvesting of crops and raising livestock. In a crunch, she'd be seen driving her load of corn or peanuts across the scales at buying points or driving a tractor in the field.
Her next stage of life was assisting with the establishment of the family business, Ivey Tractor Company. To be more accessible to the business, Nell and Ralphael renovated the former "Clionian Hotel" for their home and moved to town. Due to declining health of both Ralphael and son Naaman, after 26 years of operation, the business closed and allowed Nell to give more attention to the beds of shrubs and flowers around the Clio home. With even more spare time after the death of her husband of 57 ½ years in 1999, she became more involved in community endeavors. She was a frequent attendee of city council meetings and was a member of both local heritage associations. She spent endless hours researching her family history and assisted others in tracing their family. She was a longtime church worker having held various positions through the years: church member, Sunday School teacher, church secretary/Treasurer, deacon's wife, choir member, and women's group officer.
The many years of physical labor on the farm and mental acuity required at the business certainly developed the stamina, determination, and fortitude that helped Nell endure obstacles that came her way in later years – surviving a moccasin bite, breaking her back in three places, and crawling up an embankment to save herself from a fall in her pond while feeding fish.
Declining health her last three years of life lead Nell to be increasingly confined to her room and bed. During this stage of life, she continued making new friends and enjoyed the love shown to her by the wonderful caregivers of Community Home Health and Community Hospice, both services supplied by Dale Medical Center. Many remarked that Nell's encouragement to them and seeing some of her spunky antics refreshed them to finish making their day.
In addition to her parents; husband, Ralphael; and son, Naaman, she is preceded in death by sons-in-law Charles Brock and Harold Smith, brothers Ralph Garner and John Abe (Miriam) Garner, Jr., sister, Beatrice G. (Ed) Scovill, parents-in-law, Dewey (Ada) Ivey, and brothers-in-law and sisters-in-law Durell (Mary) Ivey, Amerine (Emma) Ivey, and Lillian (Lesley) Baker.
She is survived by daughters Jeanette Smith, Reba Brock, and Jane (Ken) Langford, daughter-in-law Audrey T. Ivey, all of Clio, a brother Trawick (Betty) Garner of Ozark, and sister-in-law Loraine Garner of Troy.
She is also survived by her grandchildren: Amanda Ivey, Kendall (Jamie) Smith, Ruthie (Dwight) Teal, Charlene Nahashon, and Kelli (Chris) Simpson; great-grandchildren: Brock (Ann) Teal, Caleb Teal, Dylan Teal, Dana (Patrick) Miller, Jade Simpson, and Kyra Simpson, and great-great-grandchild: Brooklyn Miller.
The funeral service will be 2:00 p.m. Wednesday, October 30, 2019 at Elamville Assembly of God Church located off Highway 51 between Clio and Ariton with Hospice Chaplain Adam Mulliner officiating and church Pastor Kenneth Earles contributing. She will lie in state one hour before the service. Burial will follow in Evergreen Baptist Church Cemetery, Holman Funeral Home of Ozark directing. The family will receive friends at Holman Funeral Home and Crematory in Ozark Tuesday, October 29, 2019, from 5:00 p.m. until 7:00 p.m.
Flowers are welcome or memorials may be made to Shriners Hospitals for Children, 2900 Rocky Point Drive, Tampa, Florida 33607.
To send flowers to the family or plant a tree in memory of Nell Garner Ivey, please visit Tribute Store
Visitation
5:00 pm - 7:00 pm
Tuesday, October 29, 2019
Holman Funeral Home Chapel
995 South Union Avenue
Ozark, Alabama, United States
Visitation
Funeral Service
2:00 pm
Wednesday, October 30, 2019
Elamville Assembly Of God Church
County Road 51
Elamville, Alabama, United States
Funeral Service


Share Your Memory of
Nell Garner
Holman Funeral Home
and Cremations


995 South Union Ave.
Ozark, AL | 36360
Ph: 334-774-5348