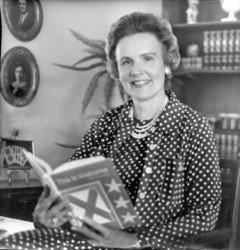 Obituary of Merle Tilley Carroll
Merle Tilley Carroll, beloved wife, mother, grandmother, and great grandmother, died peacefully on January 23, 2020. She had been a resident of Oakview Manor Health and Rehab Center for the past two years. Her parents, Merle O'Neal Tilley and James Peek Tilley, Jr., husband James Yancey Carroll, and infant daughter, Susan Reynolds Carroll of Ozark, Alabama, preceded her in death. At her request, a private Celebration of Life family gathering will be held at a later date due to the continuation of uncertain times due to COVID-19. Interment will be in Westview Memorial Cemetery, Holman Funeral Home and Cremations of Ozark directing. Married 62 years, Merle and James became the proud parents of Mary (Mrs. Robert T. Herdegen III) of Farmville, Virginia, and Ellen (Mrs. Fred Moore III) of Dyersburg, Tennessee. James and Merle were blessed with five beloved granddaughters, Sarah Barkley (Mrs. Chad Raaymakers) of Odessa, Florida, Meg Barkley Sterbenz (Mrs. Chris Sterbenz) of Glen Allen, Virginia, Genevieve Herdegen, (Jersey City, New Jersey), Elizabeth (Mrs. Kennon Marshall) of Roanoke, Virginia and Rebecca Moore, of Nashville, Tennessee. Merle and James were especially thankful to have five great grandchildren, George William Raaymakers, James Theodore Raaymakers, Finn Thomas Raaymakers, Eva Krystyna Sterbenz and William Gerhart Sterbenz. A great source of joy and happiness was in her relationships with her family and friends. Born on April 8, 1928 in Andalusia, Alabama, Merle was the youngest daughter of her beloved parents, the late Merle O'Neal Tilley and James Peek Tilley, Jr. She genuinely cherished her sister, the late Elizabeth Tilley (Mrs. George C. Dunn) and brother, the late Jimmy (Mr. James Peek Tilley III) and members of their family. Her early life in Andalusia, AL, cultivated a love and devotion to family and friends of which she often expressed a deep affection. Her parents resided in Andalusia, Alabama for twenty-two years. Their family closely identified with the business, social, civic, and church life in their community. At the age of four, Merle and her family moved to Ozark, Alabama in pursuit of the establishment of a family operated gas and oil distributorship for the county and region. From the Dale County school system, Merle attended Fassifern School in Hendersonville, North Carolina in which she was Salutatorian of her class. Upon her graduation, she attended Randolph Macon Woman's College in Lynchburg, Virginia in which she earned a Bachelor of Arts degree in English. She was initiated as a member of Tri-Delta Sorority. She subsequently taught mathematics in the Enterprise High School system prior to her marriage to James on September 16, 1950. As a life long advocate for education, she continued her teaching endeavors by tutoring students. After their marriage, Merle and James resided in Ozark, Alabama. They were loyal members of the First United Methodist Church. They were enthusiastic members of the John Wesley Sunday School Class. In addition, she regularly served in various church capacities inclusive of the Mission Committee, Benevolence Outreach, the New Member Outreach Committee, United Methodist Women and further assisted as a Sunday School teacher. Merle authored three editions of a fourth grade history text entitled, "This is Alabama," which was utilized by schools throughout the State of Alabama. In addition, she was an author for children publishing stories in Jack and Jill, National Scholastic and Together, a United Methodist Church publication. She received the Southern Writers Award for Juvenile Literature from The University of Georgia. In recognition of her accomplishments as an author, she was the recipient of the Distinguished Service Award by the City of Ozark Mayor and Board of Aldermen. Merle had many aspirations as she embraced new opportunities to learn and expand her education. She also encouraged those she knew to learn, travel and embrace new opportunities. She was genuinely devoted to her family. She often lovingly reminisced of family memories and the many special moments shared together. She often reflected on the many joyful trips to visit her beloved maternal aunt and uncle in St. Louis, Missouri. She expressed her creativeness in a variety of ways inclusive of her love for traveling, reading, writing, gardening, nature, good cuisine, sailing, beekeeping, deep sea fishing with family, playing bridge and playing golf with her husband, James, and friends. She, along with her family, eagerly looked forward to football season each year at the University of Alabama. In 2010, the Dale County chapter of the University of Alabama Alumni Association honored Merle and James with a scholarship in their names for deserving Dale County students. She served as a troop leader for Girl Scouts of America. She was a Charter Member of the Misses Club in association with the Alabama Federation of Women's Clubs. Merle especially loved spending many happy, memorable occasions being with her family and friends at their lake cottage in Eufaula, Alabama, and in later years, at their townhouse in Mexico Beach, Florida. The family is deeply grateful to the families of Oliver Kingsley, Jr. and Frank Kingsley for their ever-present help. The family is also indebted to Sharon Call, Cathey and Ralph Hobbs and their staff at Parker Realty, Mexico Beach, FL, the staff and members of Ozark First United Methodist Church, the caring staff of Flowers Hospital in Dothan, Alabama, and the compassionate staff at Oakview Manor Health Care and Rehab Center. The family of Merle Tilley Carroll would like to express their sincere gratitude for the outpouring of love, prayers, comfort, and many kindnesses during this difficult time. In lieu of flowers, the family requests memorials are directed to First United Methodist Church, 167 East Broad Street, Ozark, AL 36360; or the charity of your choice.
To plant a tree in memory of Merle Tilley Carroll, please visit Tribute Store
Services for Merle Tilley Carroll
There are no events scheduled. You can still show your support by planting a tree in memory of Merle Tilley Carroll.
Visit the Tribute Store


Share Your Memory of
Merle Tilley
Holman Funeral Home
and Cremations


995 South Union Ave.
Ozark, AL | 36360
Ph: 334-774-5348